Le Lapin Agile was a café in Montmartre, frequented by artists. Have a look: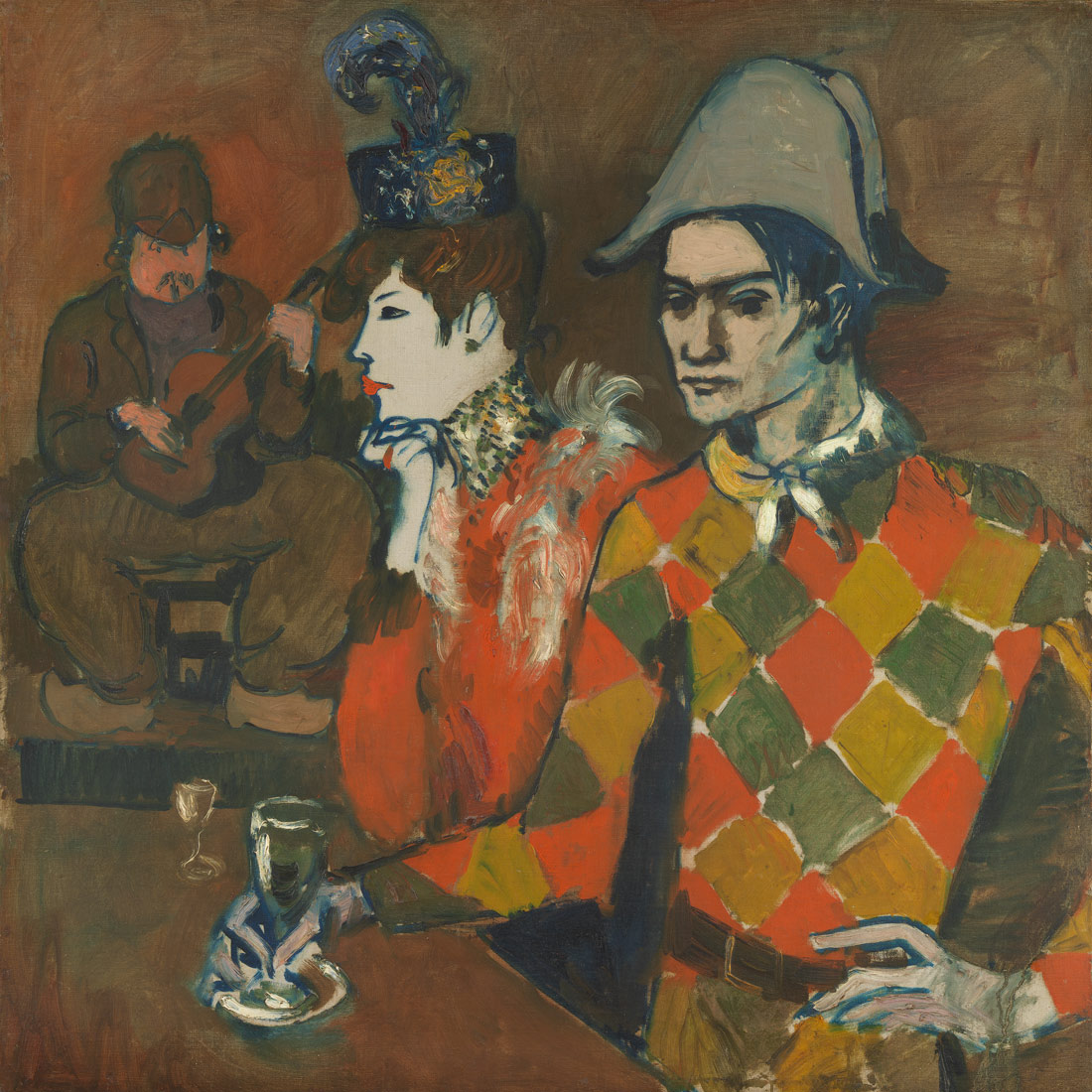 The destitute outcasts featured in Picasso's Blue Period gave way, in 1905, to circus performers and harlequins in more colorful settings. At the Lapin Agile, a canvas nearly square and broadly painted, was originally conceived to decorate a bar in Montmartre, the interior of which is depicted here. Since the painting would be seen across a crowded and smoky room, Picasso's composition was of posterlike simplicity. He aligned glasses and figures—hatted and shown from full-face to profile view—along severe diagonals, ending with a seated guitarist, Frédé, the café's owner. As identifiable as the musician are the two diffident patrons at the bar, their colorful, theatrical getup accentuating their emaciated pallor. The melancholy harlequin in the red, green, and ocher diamond-patterned costume is Picasso himself. The pouting woman decked out in an orange dress, boa, choker, and gaudy hat is Germaine Pichot, a notorious femme fatale. In 1901, unrequited love for Germaine had driven Picasso's close friend Carlos Casagemas to suicide. The melodrama continued to haunt Picasso, who evoked his dead friend in several paintings at the time. Germaine subsequently married Ramon Pichot, another of Picasso's close friends.
This was probably the most popular of the several gathering places in Montmartre. It is mentioned in connection with Picasso and his circle in many sources describing those exhilarating times. Formerly named Cabaret des Assassins, its name was changed according to a common practice in Paris at the time – that of making phonetic puns for the names of establishments. The regular clientele at Assassins began to refer to the place as Le Lapin Agile (the agile rabbit), which described the painting over the door by artist André Gill – as in "le lapin á Gill" (Gill's rabbit) or even "lá a peint A. Gill" (A. Gill painted here).